I'll never forget it. I was lying on my bed, half doing homework and half watching a programme called Wavelength, a staple of mine as a teen, on our tiny portable TV. The programme was a music show, of course, and it had all the best and latest hits on it. They cut quite quickly between songs and I think I'd just seen The Thompson Twins when it announced this new song I was currently watching was being sung by a guy called Marilyn.
I fell in love, as did most of Australia apparently.  Not only did I think Marilyn had the most amazing green eyes I'd ever seen – the song, Calling Your Name was amazing!! (It got to number 3 in Aus. and 4 in the UK). My brother was sort of the self appointed music buyer in our house and when he came home I told him we HAD to get that song, which he did – both 7″ and 12″ as you did in those days when you really dug a song. (Oh, and no, I had no problems loving a man named Marilyn. After all, gender benders were totally in plus, my mum adored Boy George so…)
Not too long after that, Marilyn did a brief stopover in Australia to hit all the music and chat shows. We found out his real name was Peter Robinson, he was born in Jamaica and apparently liked taking playful verbal swipes at Boy George – they were rivals. [It wasn't too long later than I found out this was actually orchestrated between the two of them to get Marilyn attention and boy, did it work!] Anyway, we also found out that he took his name from his idol, Marilyn Monroe and really enjoyed dressing up and putting on make-up. Like Boy George, he was an infamous Blitz Kid (New Romantic).
Marilyn and George back in the day
Anyway, by this time it was time for the release of his second single - Cry And Be Free, which was gorgeous. [The below is a live performance as the vid is not nowhere to be seen, which is a pity because it was beautiful]. The song reached number 17 in Aus  and 31 in the UK. A crime.
During Marilyn's promotional tour I, and interviewers, found him to be sharp and witty; a very entertaining interviewee. He was also extremely generous in his praise to Miss Claudia, the black singer who appears in his videos with him. He seemed to genuinely care for her, ensuring to praise her, which was touching.
With Miss Claudia
His next single, You Don't Love Me is probably my ultimate favorite and the video is largely devoted to his Aussie promo tour, which was sweet. The song itself is marvelous imho. Great lyrics and a very upbeat and happy tune.
http://www.dailymotion.com/video/x6uqfi
[I'm also putting in a YT audio version as the audio in the above is a touch dodgy.]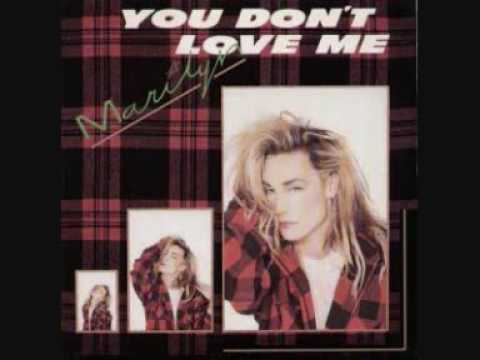 Additionally, with his success, he was invited to appear on Bob Geldof's Band Aid's Do They Know It's Christmas? – which was a thrill. (I swear everyone I love took part!)
[Maz is in yellow]
We had to wait until 1985 for Marilyn's marvelous debut Despite Straight Lines. It has his previous singles on it and he released two new ones, Baby U Left Me (In The Cold) and Pray For That Sunshine.
Neither the singles nor the album did well in the UK (though they found a modest audience in other parts of the world) and frankly, that was the last we heard from Marilyn for the decade. Honestly, my brother and I simply and completely could NOT figure out why his album didn't do well. The songs were excellent and Marilyn himself was an engaging and entertaining person – and still is. It was just one of those mind boggling things. It wasn't until much later I found out his disappearance was due to a heroin habit (not a surprise really considering how close he and Boy George are) and depression related issues – which honestly made me sad. He's talented and has a beautiful voice and, in my opinion, the public should hear more from him. He did try to record a second album in Detroit, it drained his finances however and was never finished.
BTW, I loved the cover to Marilyn's album. Obviously, it was not something you'd expect and the short hair (which I found hot) just proved what a beautiful guy he was physically.
(below is the video for Baby U Left Me (In The Cold). Sadly, it is poor quality and out of sync but still worth a look as it's a great song).
http://www.dailymotion.com/video/x1wdlu
Below is another of his songs, Surrender To Your Love, which is another beautiful ballad. I highly recommend a listen. Here's hoping we can hear some new things from Marilyn in the future!
http://www.dailymotion.com/video/xb3nz6