(left to right: Roger, Nick, Simon, Andy and John)
Up until 1981, I didn't want to know about any new bands because I was all about KISS and being into rock. However, once again while watching a teen show who accepted requests (I was waiting for 'Beth')  I saw and heard my first Duran Duran song. The song, Planet Earth, was great – I loved it! but what really struck me was the video…the opening was intriguing and as the song progressed I couldn't help but notice the bass player of the band. I would become totally obsessed with him for decades. Obviously, I am speaking about John Taylor.
(I was going to put videos on the page but EMI aren't being nice and have disabled embedding so pics will have to suffice along with links. Sorry about that!)
John circa 1981
Duran begrudgingly accept that the perception that they were linked to New Romantics (there will be a page on them soon) initially helped them. But, in actuality, John and Nick (keyboards/synth) started the band together and were passionate and serious about Duran Duran and weren't into being New Romantics at all. I won't delve into their entire history or this page would go on forever but suffice it to say that the stars and planets aligned and the 3 guys that joined John and Nick  – Simon (main lyricist and vox), Roger (drums) and Andy (guitar) were all gifted and good looking. Duran's songs were catchy and they were genuinely interested in using video as a promotional tool. Despite what people say, Duran were the first to understand how important that was and the first to use it to their advantage. Despite being incredibly popular in the UK and Australia, their first – and wonderful – album didn't crack the ever important U.S., despite a tour supporting Blondie. I didn't mind though. All I remember was that the music was excellent; the lyrics intriguing (Friends Of Mine is a firm favorite to this day) and that all my friends loved them.
1982 saw the release of (my fave) Rio and it's second single Hungry Like The Wolf finally broke Duran in the United States thanks to MTV's heavy rotation of the video. Subsequently, the song peaked at the third spot of the Billboard Hot 100 in March 1983 , and Duran Duran were now an international sensation. The video won the first Grammy Award for Best Short Form Music Video in 1984. (Yeah, the Americans were waaay behind).
The band had been touring, writing and recording for a while (Rio's first single My Own Way was written and recorded in 1981) and, as stated, being savvy with video, Duran had their own plans and ambitions for promotion. They reunited with Aussie director Russell Mulcahy (who had directed the vid for Planet Earth), and – imho brilliantly – planned the release of a full length video album—eleven videos for the best songs off of the Duran Duran and Rio albums. They traveled to Sri Lanka and Antigua between tour dates to film the memorable videos for the singles Rio, Hungry Like the Wolf and Save a Prayer, as well as the lesser-known (and brilliant) Lonely in Your Nightmare and the zombie inspired Nightboat. The video album sold like wildfire and only solidified Duran's spot as number 1 group of the 80′s. My brother and I played it endlessly and I'm honestly amazed the tape never wore out! Of course with Duran being hot, merchandising was in full swing and to our delight we saw a plethora of Duran Duran related materials from posters, books, picture discs, calenders, sticker books, keyrings, scarfs, earrings, rings and badges (or buttons as Americans call them).
(I have all these books plus more)
(not me obviously – but my room looked like this)
It was lucky we had the video album as we Duranies were treated to only two singles in 1983. The first in March – Is There Something I Should Know – which went straight to number 1 in the UK. Duran's debut album was re-released with the inclusion of the single for the U.S. – although it was available everywhere. The rest of 1983 saw the band recording their 3rd album in Montserrat and Australia – the latter of whom were beyond delighted to have them, as they'd been fans since the beginning. It was a difficult album to record due to pressure to outdo Rio and bouts of insecurity were abound. However, Seven And The Ragged Tiger was eventually released and the video for it's first single (and the second of '83), Union Of The Snake was filmed in Sydney. Personally speaking, I didn't like it much. Lyrically it was interesting but musically it's annoying (to me). My brother, something of a chart expert even then, thought that New Moon On Monday would have been a better debut single and I concurred. Thankfully, it was released as the second single and went top ten in both the US and the UK.
Below – stills from the photo shoot done for Seven And The Ragged Tiger. You could buy these as a 5 poster set.
John                                                          Nick
Simon
Roger                                                     Andy
Obviously, we'd listened to the album many times and The Reflex, while okay, didn't strike us as single material. We guess it didn't strike anyone else as single material either, as production wizard Nile Rodgers of Chic fame was brought in to remix it. The result was amazing and the song a massive hit, reaching number 1 in several countries around the world, including the U.S. and the U.K. [The video is John Taylor's favorite /trivia].
In 1984 Duran embarked on a massive world tour that included the United States. The tour, promoting  Seven And The Ragged Tiger,  was documented by Russell Mulchay and resulted in the film Sing Blue Silver. The year was topped off by the release of The Wild Boys – a song my brother and I played to death. The song was the first single to be released of Duran's live album Arena and we were absolutely elated to find out that the accompanying video was part of a longer film due out in 1985. For me, personally, my imagination ran wild and it was beyond exciting! The video has them as prisoners escaping these, well, wild beings so I was expecting MAJOR things!!!! A sort of Escape From New York type vibe staring my favourite group! Could that be any cooler?! Anyway, we played the song and video so often that our parents complained and to this day the song drives my dad nuts. Being good obsessive Duranies, we bought Sing Blue Silver & Dancing On The Valentine [the videos from 7] and, like the video album, they were played a lot.
With all the videos, books and constant singles Duran remained the dominant band of the 80′s.  The band finished the year by helping good friend Bob Geldof with the wonderful & moving Do They Know It's Christmas – a song that had nearly every major pop star of the 80′s (many of whom I loved) present and is always a joy to listen to and every single person who bought the single (both 7″ and 12″ for us) felt really good about it.
L-R: George Michael, Marilyn, Boy George, Bob Geldof, John, Simon, Paula Yates Tony Hadley and Paul Young
Having never had a break since they started, Duran Duran decided to take one in 1985. Oddly, rather than relax, the band split into two groups to pursue two different styles. John and Andy formed The Power Station – Robert Palmer ended up on lead vocals and (a dream for John who is a huge Chic fan) Chic's Tony Thompson took drums while Bernard Edwards (also of Chic ) produced.  Simon and Nick formed Arcadia who had amazing guest vocalists such as Grace Jones and Sting as well as cool guest musicians such as Dave Gilmore of Pink Floyd fame and the amazing Mark Egan from the Pat Metheny Group on bass. Roger straddled both groups as the drummer for Arcadia and percussionist for Power Station. The Power Station did wildly well in the U.S. with cool tunes such as Some Like It Hot and Get It On (Bang a Gong). Both songs went top ten in the U.S. and the band decided to tour. Arcadia, who were more experimental and esoteric with their music did well in the UK and their album So Red The Rose is one of my top 10 albums of all time. It's simply brilliant. That's not to say I don't love Power Station's efforts from 33 and 1/3 as being a rock chick I absolutely do. But ironically, I prefer So Red The Rose. It's simply brilliant.
Additionally in 1985, Nick released a book of Polaroid art called Interference, which naturally, we bought. Nick was actually my brother's favorite member and my second favorite after John. To us, he appeared very intelligent and his genuine interest in art and getting music just right warmed our hearts. We'd heard he'd stayed up day and night perfecting 12″ mixes of Rio's singles. He gave the band Kajagoogoo a number 1 and argued black and blue with John Barry about A View To A Kill – which is probably why it's known as the best Bond song. All up, Nick was just completely fascinating to us – and still is.
(Nick's v. arty)
In 1985 the much anticipated Arena (An Absurd Notion) was released and, well…suffice to say it was no Escape From New York. Disappointment could sum it up for me and my brother. Massive disappointment and even embarrassment. We bought the Making of Arena A-because we were Duranies but also we wanted to know what the hell the guys were thinking! It's been a while since I've seen it but I recall Simon saying they brought in Milo O'Shea because it was 'so bloody obvious' they had to (he played the original Dr. Durand Durand in the film Barbarella, from which the band took their name). He also admitted it came out differently to what he'd thought it would (so we fans weren't alone) although in and odd way he was happy it had. From his demeanor, however, I didn't believe him and I think the band – or Simon at least – were just as unhappy with it as we were. For those unfamiliar with the film, The Wild Boys was a total fake out.
(Duran's live album was also tied into Arena. The Wild Boys was it's first single)
The video was meant to be a teaser for a full-length feature film of the same name, based on the 1971 novel The Wild Boys: A Book Of The Dead by William S. Burroughs . However, that film (obviously) was never made. Instead what we got was Milo O' Shea reprising his Barbarella role as Dr. Durand Durand. Thanks to fans chanting for Duran, he thinks people are calling for him and he crash lands beneath the arena where Duran are playing with seemingly no-one noticing. (Yeah, right).  When he figures out the teens are not calling for him at all, but the band, he tries to kill Duran for daring to steal his name. Like all evil doers, he has totally inept and annoying followers who do his every biding – in this case 3 midgets – but like bad comedy, they fail at every turn. Meanwhile, Duran go on with the concert completely oblivious to everything. A couple of teens figure something is amiss and end up saving the day and again – D2 have zero idea anything went on. The reason for this is because it is painfully obvious that what we see of Duran is simple concert footage and the actual 'story' is going on around it. It hurts to say but Arena is just a basic insult to any fan with a brain and thus a massive fail. Our expectations were shot to hell and we were disappointed that Russell and Duran let us down so badly. Anyway, moving on; aside from working with members of Chic on The Power Station, John had another wish come true in 1985 and that was Duran Duran writing and performing the latest James Bond theme: A View To A Kill. This single remains the only Bond theme to go to Number 1 on the U.S. charts, and the highest-placed Bond theme on the UK chart where it reached Number 2. It would be the last single the band recorded as the original five-piece for twenty years.
John circa 1985
I have to say, 1985 was almost a schizophrenic experience to be a fan. It was cool they decided to take a year off but when the two groups emerged it felt ominous, despite each group's success and the band's promise that they were absolutely NOT splitting up. I took solace in the fact Roger had been in both groups and, of course, that they recorded the Bond theme but again, it was a nervous time and of course my worst fear came true when rumors began floating around about Roger leaving; he was going to take a year long sabbatical. Shortly after, Duran released a press statement that Roger was no longer in the band but was welcome back any time. He was apparently suffering from exhaustion but the fans believed he had a nervous breakdown. We were assured things were fine, however, and after his dramatic yacht race, whereby poor Yasmin suffered a miscarriage thanks to constant press BS about him having an affair in New Zealand and then, of course, his yacht overturning and he and the crew needing rescued, then going on to come 3rd in the race, Simon returned to John and Nick in Paris to start recording would be one of my favorite Duran albums…Notorious.
During Duran's side projects and yachting, a young Norwegian group released their debut and became (irritatingly in my view) true competition for Duran Duran. Obviously, that group was A-ha. More anxiety for the Duranie who was looking around and seeing the rise of popularity of the group's lead singer, Morten Harket. The news that Andy was being an ass and wanted to go solo seemed to just depress you more. Duran were down to 3 and their popularity and glory days  were waning. The earlier part of 1986 still saw Arcadia releasing singles and doing fairly well. The videos were incredibly entertaining as well and everyone was elated to see John in The Flame (a fave of mine). Also in 1986 John found himself with a single – I Do What I Do from the film 9 & 1/2 Weeks. It was a good song and I agreed with one reviewer at the time who compared him vocally to a young Bowie. Andy's single, also from a soundtrack, American Anthem, was also released and it turned out that being an ass aside, he also had a pretty good voice and despite everything I really love Take It Easy.
Anyway, solo projects aside in October, it was the big event; the titular track of Notorious was released and I personally loved it to death and still do. The guys looked good too and the optimist in me thought things perhaps weren't all bad. At least that's what I hoped and I was relieved and elated that the single did so well. It reached number 2 in the U.S. and 7 in the UK, 1 in Europe and things were looking good. It seemed everyone enjoyed their move from pop to funk as much as I did.
However, the 2nd single (and one of my personal faves) Skin Trade didn't do so well, to my horror, and John has since been quoted as saying that his disillusion with the charts began when "Skin Trade" peaked at #22. (My disillusionment began in the late 80′s early 90′s with the advent of Stock Aitken and Waterman) Anyway, Skin Trade being (imho) SO brilliant and yet doing so poorly was when I really knew Duran's glory days had passed for sure. A depressing time, it must be said. The third single (and Duran's first CD single) Meet El Presidente didn't fare well either which really wasn't much of a surprise. Still, we bought the singles, cards and video 'Three To Get Ready' because even if the more fickle fans had moved on, I hadn't and neither had my brother. I will always maintain though – that Notorious is one of Duran Duran's absolute best albums. (Naturally, we also bought the Notorious live tour Working For The Skin Trade when it came out. John's bass play for the opening to Wild Boys is a joy to watch).
1988 saw the release of Big Thing and surprisingly the first single I Don't Want Your Love both debuted and peaked at number 14 in the UK, but did much better in the rest of Europe, especially in Italy where it spent six non-consecutive weeks at number 1, becoming the best-selling single of 1988 in that country. (I actually always remember Italy in particular as very devoted Duranies). The single also did very well in the U.S. reaching number 4 on the Billboard Hot 100. I wasn't really sure what to make of it though. It was certainly different and had a more aggressive sound but I vacillate on it. Some days I like it ok, others not really. The second single, All She Wants Is was much better. It was interesting, amusing, and the video was instantly recoginizable as Dean Chamberlain, who'd worked with Nick and Simon on Arcadia's Missing. It was a pleasant surprise to see it hit number 9 in the UK and 22 in the U.S. although again, the mass hysteria of the early 80′s was missing as the flood of new and mainly useless bands and singers began to capture the younger teen masses. Do You Believe In Shame? was the band's third single and (imho) easily the best song on Big Thing and one of my favorite D2 songs. It barely charted anywhere – which was gobsmacking. It's truly beautiful and was dedicated to 3 close friends of the band's who'd passed away. Andy Warhol, Alex Sadkin and Simon's friend David Miles. It can also be heard on the film Tequila Sunrise and is on it's OST. On a side note – while the video is wonderful (as usual) – I was alarmed at JT's stick-like appearance. The guy was waaay too thin!
Seeing out the decade was, well, Decade. It was a greatest hits album. The song Burning the Ground was created as a stand-alone single to promote the album but didn't appear on the album itself.  The song is  a clever megamix of Duran Duran's history, featuring tidbits of all of the band's hits of the previous ten years. The album was rendered obsolete in 1998 with the release of Greatest, which also included songs from the 90′s.
[unfortunately EMI have decided to be asses and not allow embedding of Burning The Ground so if you'd like to see it, click the link]
I've decided to end with Do You Believe In Shame? because it's truly excellent and doesn't get enough love.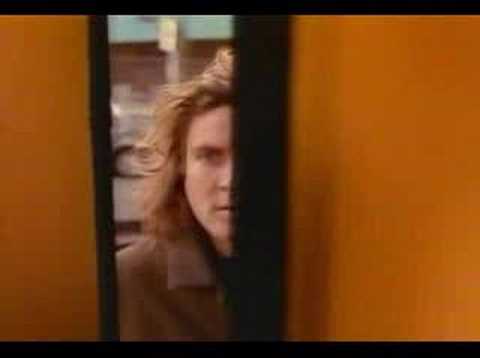 Obviously, Duran Duran still endure and have hits (Ordinary World et al) but this site is about the 80′s so this is where the piece on them end. If you're a non fan I hope it wasn't too long for you! And, if you're a fellow fan, I hope you enjoyed it